Wonder Premium Canister with Tandem Air Nozzle
The newest Wonder of the world.
Model #: WONDERP.TAP

LED Headlight

Tandem Air Technology

10-year warranty on body, 5-year warranty on nozzle

100% Sealed Allergen Buster

Lifetime Belt Protection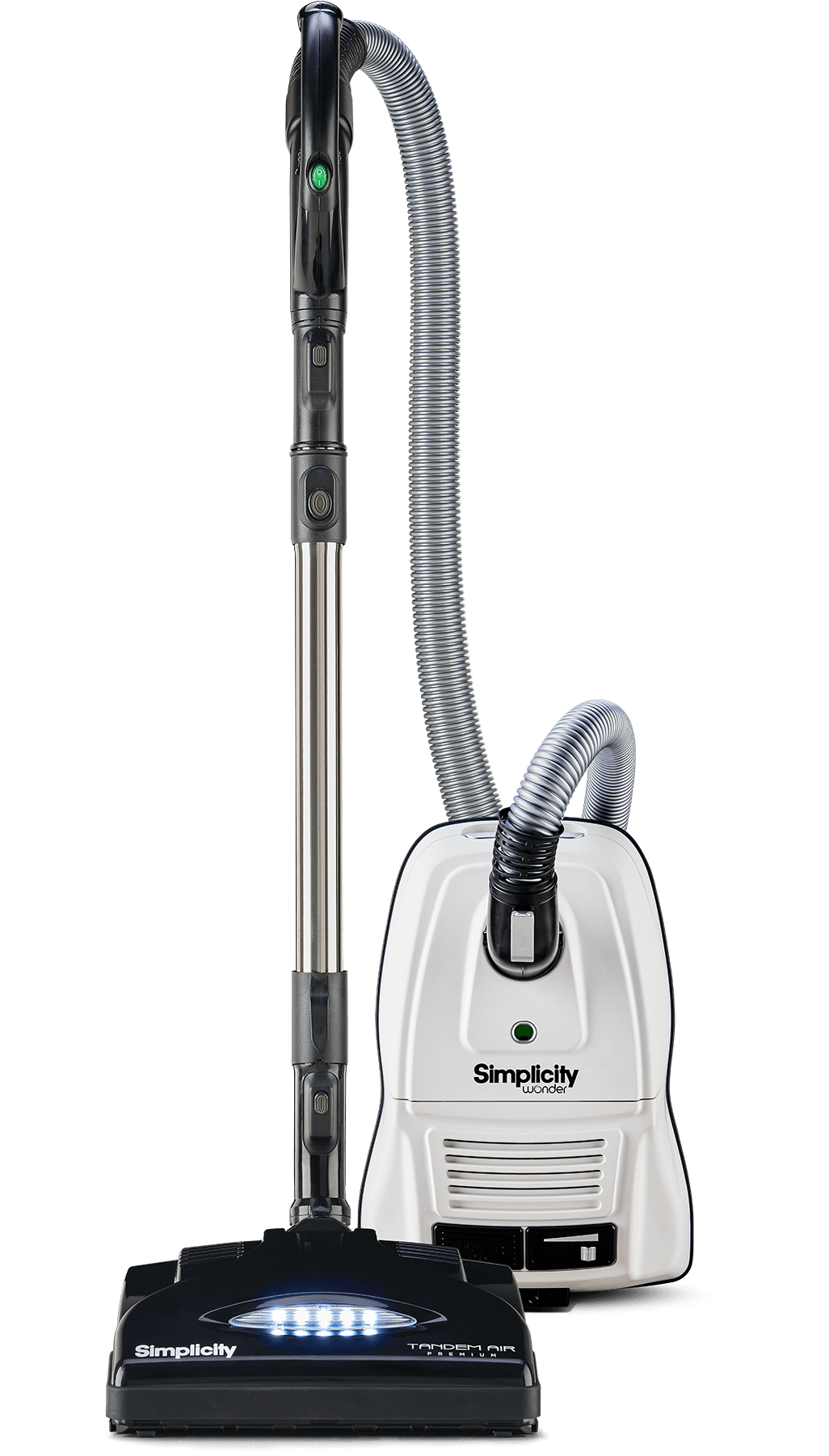 Gallery & Videos
Featuring a powerful body motor combined with a second motor in the nozzle, this canister vacuum is designed to do the cleaning "heavy lifting" in your home. This Wonder tackles bare floors, carpet, area rugs, stairs, upholstery, baseboards, blinds and just about any other place dirt tries to hide. And once it finds that dirt and dust, Wonder's self-sealing HEPA media bag keeps it in the bag and out of your home. In situations where you don't need THAT much power, there's an adjustable suction control that lets you dial it down for a gentle cleaning.
You want options? Wonder comes complete with nearly every tool Simplicity offers for a total cleaning system. Even better, if you want to use other tools, there's a tool adapter that connects to any size vacuum tools. With the Wonder Tandem Air Premium, you'll find yourself wondering when you get to use it again.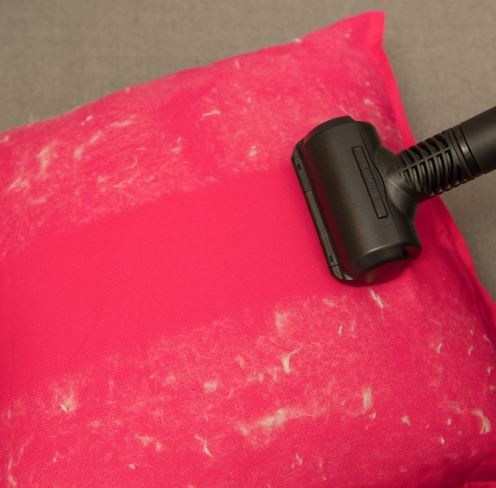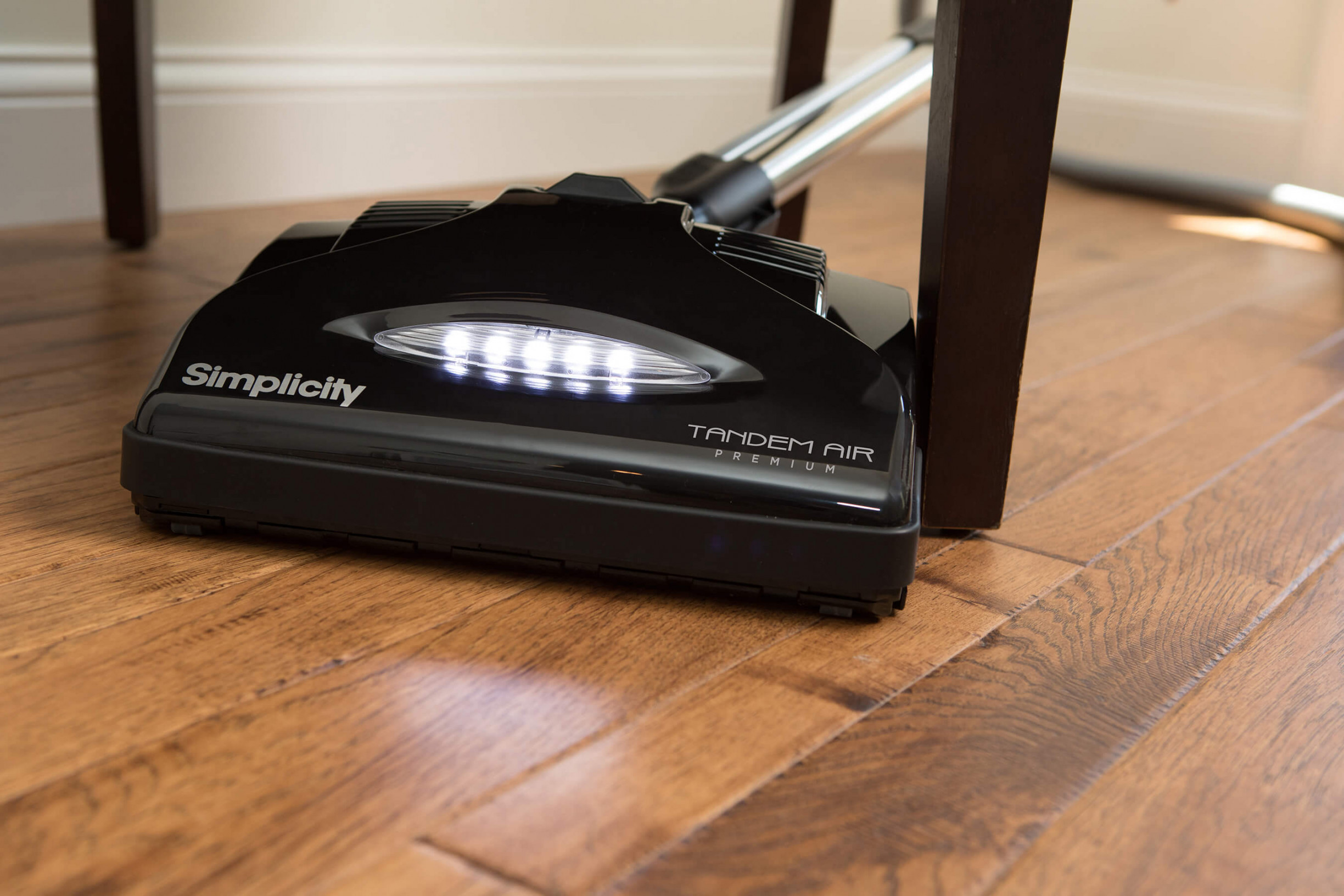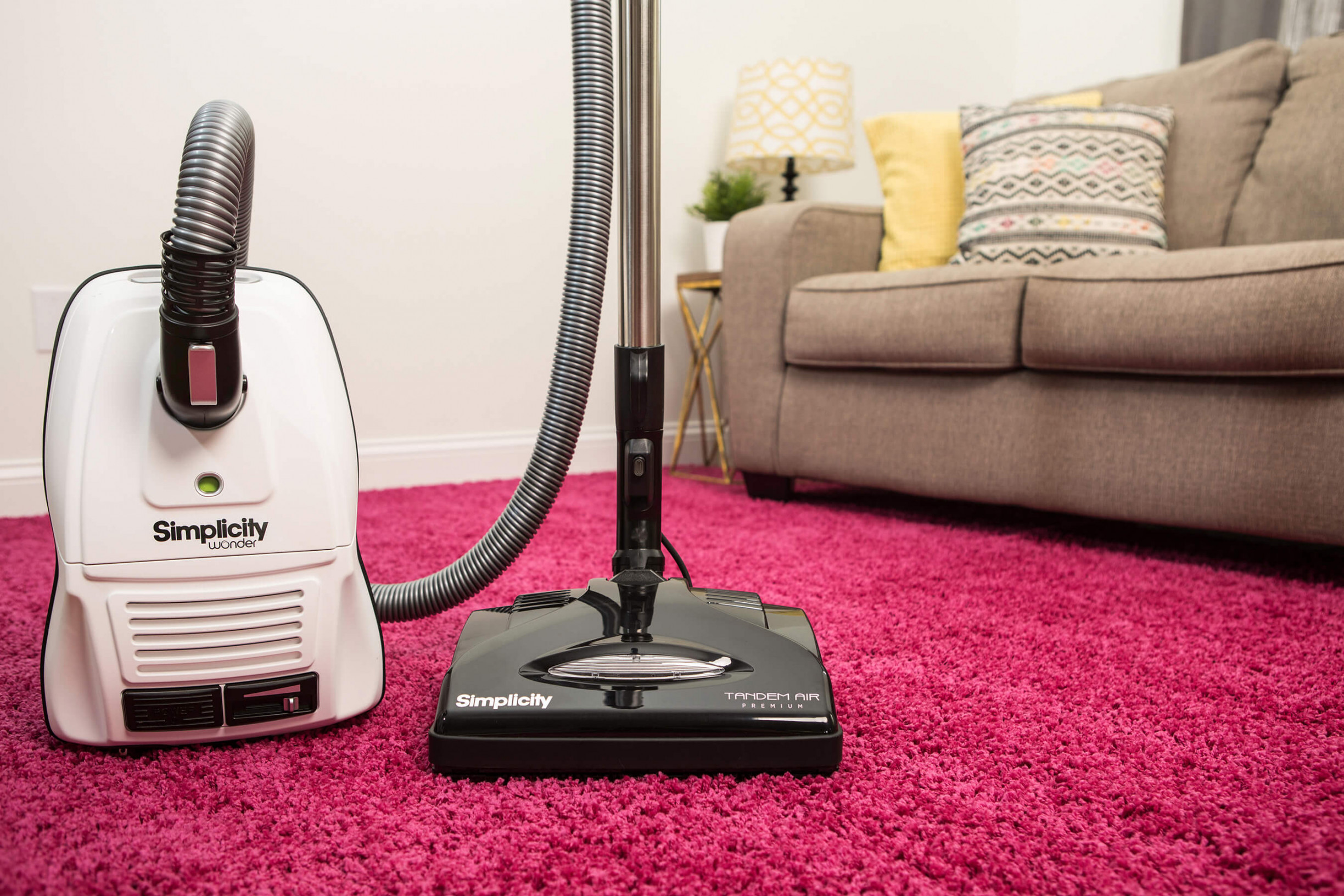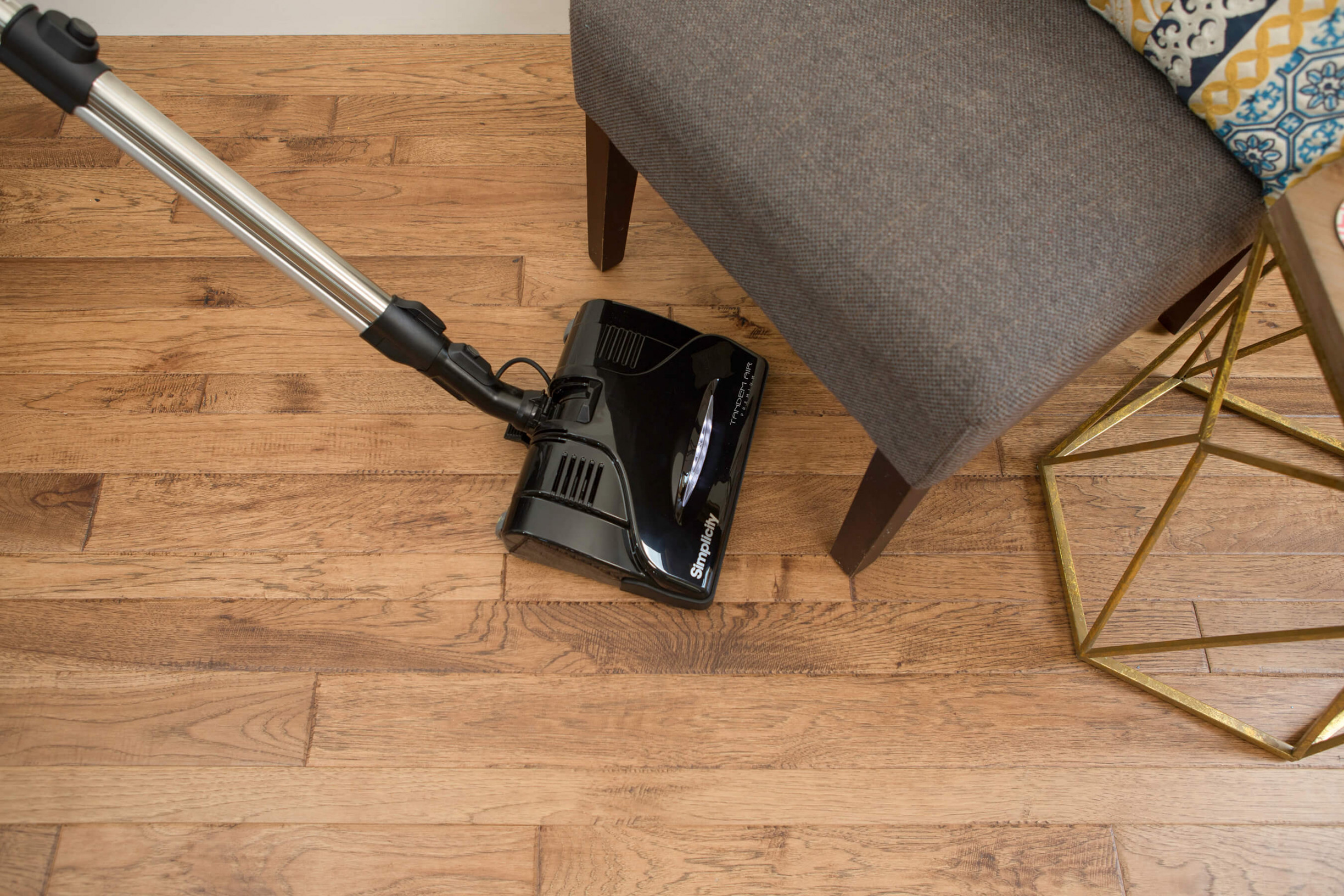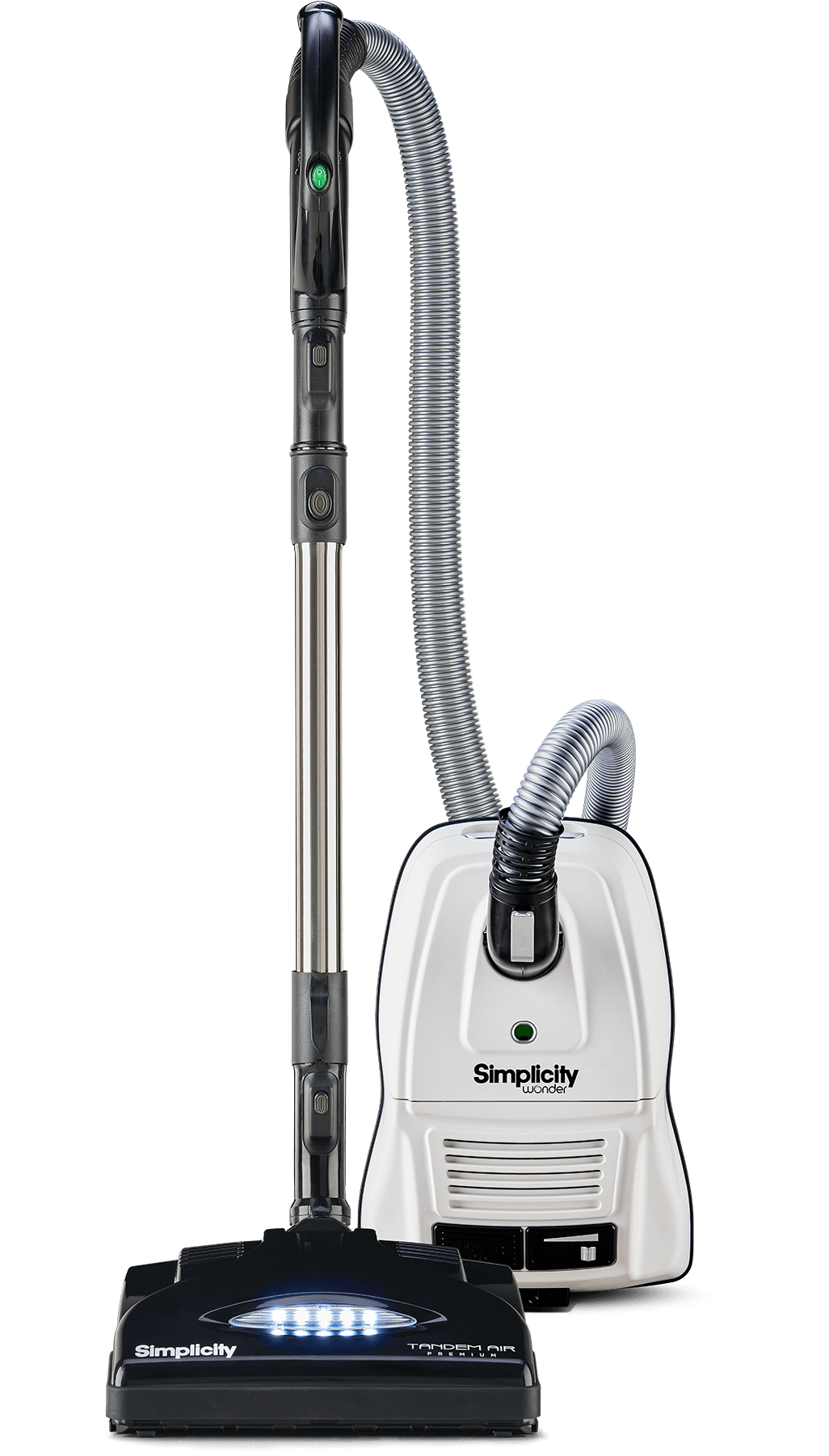 Features
Self-Sealing HEPA Media Bag - Keeps the pollen, dust and dander out of your indoor air and in the bag where it belongs.
Granulated Charcoal Filter - Captures pet odors purr-fectly
Aluminum Telescopic Handle Tube - Lightweight aluminum with metal stops help you reach high, far and wide.
6.5-Foot Hose - The perfect tether length to give you reach with control.
Full Bag Indicator - In case you forget to check, a light reminds you when to change the bag
Variable Speed Control - Dial back suction for cleaning fabrics or other delicate items.
2 Rear Wheels and a Premium Front Caster - Outmaneuvers other canisters with a smooth gliding caster and large wheels
Metal Brushroll with Replaceable Brushstrips - Forget plastic and wood -- this brushroll is built for the long haul.
Tandem Air technology - Two motors work together to clean like nobody's business
Dirt Sensor - This dirt detective tells you when it finds dirt and when you're finished vacuuning it up
Hall Sensor and Lifetime Belt - Shoelaces got you down? This vacuum saves belts by stopping the brushroll when it jams.
Gold Seal of Approval - The Carpet and Rug Institute gave this vacuum a Gold Seal of Approval for its ability to remove soil, contain dust and retain carpet quality.
Squeegee - Grooms carpet perfectly and effortlessly cleans bare floors
Product Specs
Bottom Plate
Lightweight ABS with Soft Carpet Plate Option
On/Off Switch Location
On Body
Brushstrips
2 Rows, Replaceable
Tools
Floor It! Bare Floor Tool, Pet Hair Beware Fur Remover, Doom for Your Broom Bare Floor Cleaning System, Handheld Turbo Brush, 2-in-1 Tool, Tool Storage Bag
Filtration
HEPA Media Bag, HEPA Media and Granulated Charcoal Filters
Warranty
10 Years-Body, 5 Years-Nozzle
Full Bag Indicator
Mechanical
Ratings & Reviews