Not every home needs a full-size vacuum. Or sometimes you don't want to drag out a full-size vacuum when a small one will do. Whatever the case, Simplicity has a handful of companion vacuums and specialty vacuums that can save time and effort.
The Transforming S65
Crumbs on the couch? Pet hair on stairs? Dirt on the mudroom floor? This lightweight multi-tasker is a transformer. This compact cleaner tackles bare floors, fuzzy carpet, people and pet furniture, even your car! The S65 never met a surface or a job it couldn't conquer. Zip through quick pick-ups with the low speed, hand-held option. Attach the stick to push through larger jobs on the higher speed. It is a powerful performer that can keep up with perpetual messes, so the clean fun doesn't need to end. Designed to confront quickly, completely, and easily big, small, high, low or anything in between jobs, Simplicity makes vacuuming the coolest chore on the list.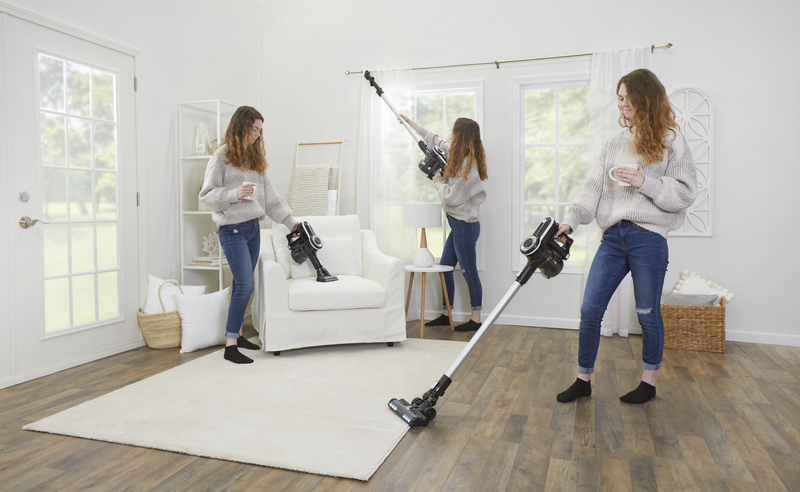 Courting the Sport
A favorite second vacuum for people who have the S10 lightweight upright vacuums is the S100 Sport Compact Canister. The S10 series vacuums are only made for floor cleaning and have no tools, and the S100 is all about the tools. In addition to a dusting brush, upholstery tool, and crevice tool, the S100 includes a set of mini tools plus an adapter and hose. As its name implies, the S100 is like a canister in that its hose connects to a wand and floor tool for cleaning bare floors and rugs. But there's one more feature not normally found on a vacuum. If you switch the hose from the intake side to the exhaust side, voila! It's a blower. Though it's not as powerful as a lawn blower, it's helpful in blowing leaves off a porch or out of a window sill. Crafty people have found a way to attach the micro tool kit pieces to blow up balloons or other inflatables.
Spiffy Floors in a Jiffy
Another handy bagless broom vacuum is the S60 Spiffy Stick Vacuum. Whether used in a kitchen, basement, or playroom, the Spiffy packs a lot of power in a small body. It's best for cleaning bare floors but will buzz over rugs and floor pads for quick surface cleaning. For cleaning crevices, the nozzle can be removed and the crevice tool added. The real glory of Spiffy is its large rubber wheels and light weight, which make it simple to clean floors in a jiffy.
Modern homes and busy families benefit from a second vacuum, and it's true – the size matters. Weight and bulkiness make it less of a chore. Whether you prefer the convenience of cordless or the power of a cord, the hygiene of a bag, or the ease of bagless, Simplicity has a specialty vacuum for you.